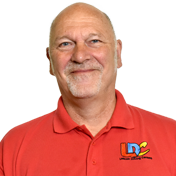 About me
Hi I'm Phil, I am a fully qualified Government Approved Driving Instructor (ADI) and I am passionate about road safety.
I was fortunate to be trained by LDC in the latest coaching and training techniques so you can be assured the training I give will be of the highest standard.
I became a driving instructor after many years as a successful IT consultant. This because I enjoy working with people, one to one, and get real satisfaction seeing how much progress people make during every single lesson and go on to achieve their dream of getting their driving licence. Students tell me I have good rapport and quickly make them feel at ease.
I live in Horsham with my wife and two cats.
Motor Cars are not the only vehicles that I drive. I'm a keen cyclist and motorcyclist but my greatest passion is flying 'planes. I'm a qualified private pilot with an additional instrument flying qualification. There is nothing better than a relaxing flight across the Chanel with family or friends, then landing at Le Touquet for lunch before returning home.
Well I hope this gives you a brief idea about me so please feel free to click here to "Contact me"